Is it time to invest in a new pair of boots? If your current pair are looking a little worse for wear, it might be time for a new pair. Shoe shopping feels like a chore for many, especially if you need to buy a replacement to a much-loved pair.
Boot shopping doesn't have to be difficult if you know what you're looking for. In this blog post, we've collated some of the best features to look out for when purchasing a pair of country boots as well as rounded up our favourite styles for men, women and children. Keep reading for all the tips and tricks you will need to arm yourself with all of the boot knowledge you'll ever need!
Features to look out for
Some of these might seem obvious but it doesn't hurt to have a bit of a think! We've rounded up a few features to consider when purchasing a pair of country boots. Think practicality first and style second. Remember, you might be wearing these boots for an entire day and doing a lot of walking in them so they need to be durable and comfortable.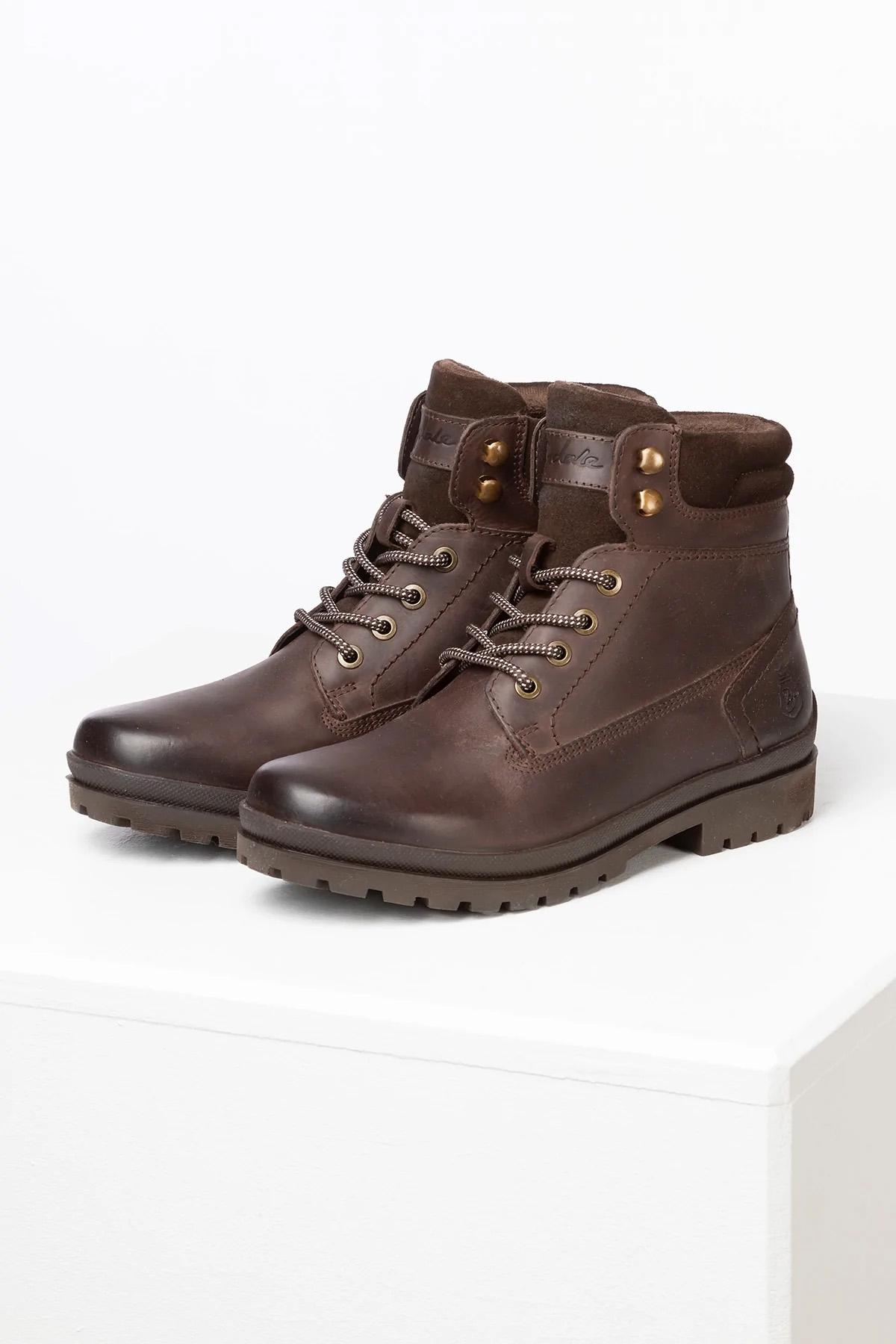 A sturdy tread and support
There's no point in purchasing a pair of boots for countryside life if they have a flat or unsturdy tread. You'll be spending most of your time outdoors walking or working so you need to check if the tread is grippy enough for uneven terrain. It's difficult because you want a flexible sole that you can move freely but it needs to be strong to withstand hours of being on your feet!
Easy to clean
How muddy will your boots get? Think about your usual walking routes and how often you have to clean them. Leather is one of the easiest materials to clean, provided you clean off any dirt or mud as soon as you get home. A quick wipe after every walk should be enough to keep them tidy and then, give them a thorough scrub once a month or so. Suede is notoriously one of the more difficult materials to clean and once it's scuffed, it's hard to scrub out.
To lace or not lace
Laces can be particularly helpful for those with narrow feet and ankles as they allow you to tighten your boots as close as possible. However, many people find them uncomfortable to wear and then clean. We recommend purchasing a spare set so you can interchange them when washing. Make use of every hook and eyelet as that's what the boot has been designed for. It's no good lacing up a few eyelets and leaving the top of the boot loose.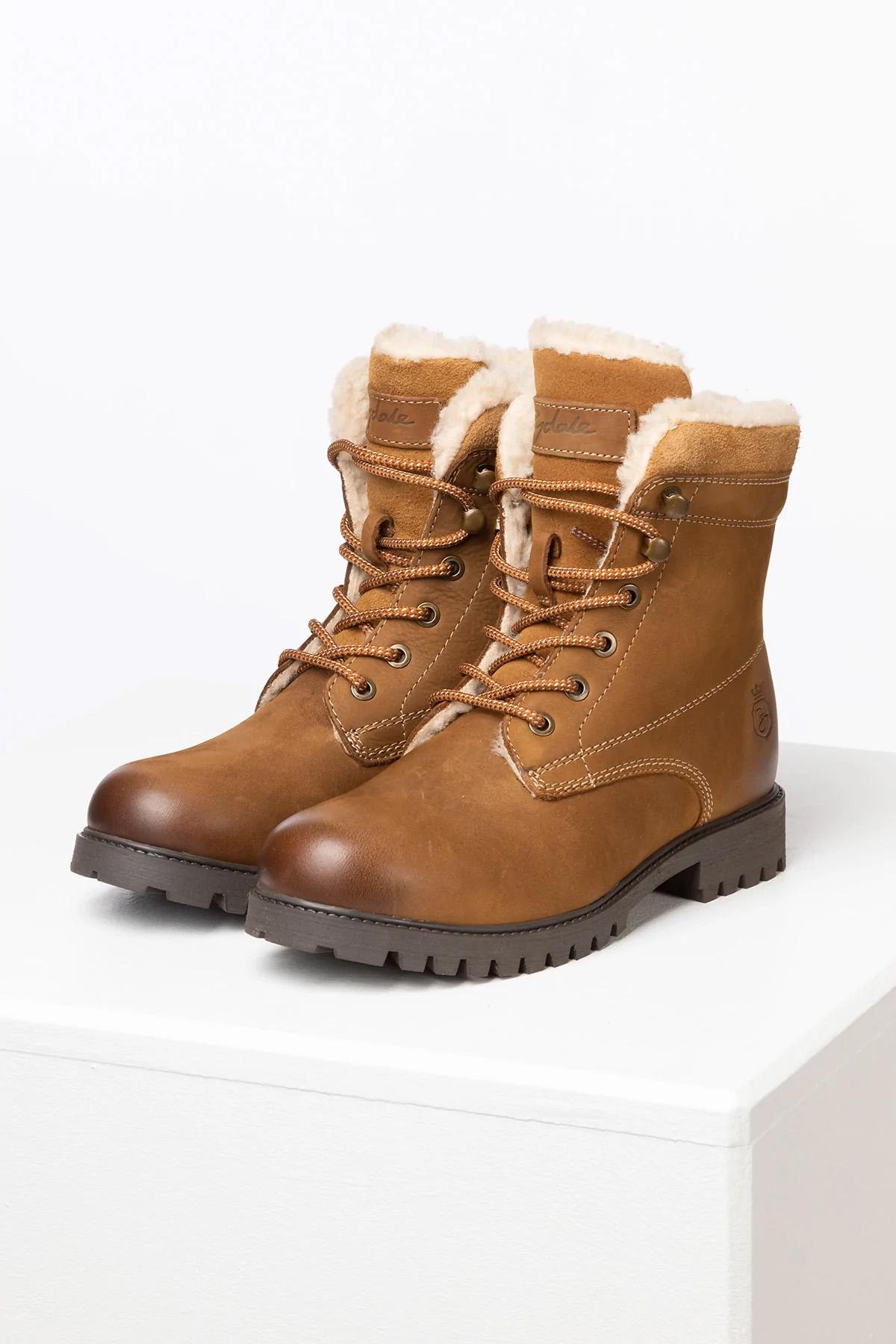 The materials inside matter just as much as the outside ones do! Some people prefer a fluffy lining to keep their feet warm, others prefer a soft cushioned inner lining. Think about whether you'll be wearing boot socks with your country boots as this can help you to determine which you prefer. The thicker the lining, the less thick of a soc you'll need to wear. Remember that feet sweat over a long walk so choose specialised socks designed for that, whether they're boot socks or workout socks.
Best country boots for women
Our range of country boots for women is expanding all the time as we introduce new styles and shades for our customers. We always try to mix the practical with the style so keep an eye out for your favourite versions!
Tall boots
Knee high boots are going nowhere this autumn/winter and they're amongst some of the most practical styles of footwear on the market. Our ever-popular Tullymore boots are in their third edition, now available in a regular and slim fit. The hard-wearing but supple leather upper sole makes these one of our most comfortable country boots too. The tread on these has been designed for outdoor work and long walks.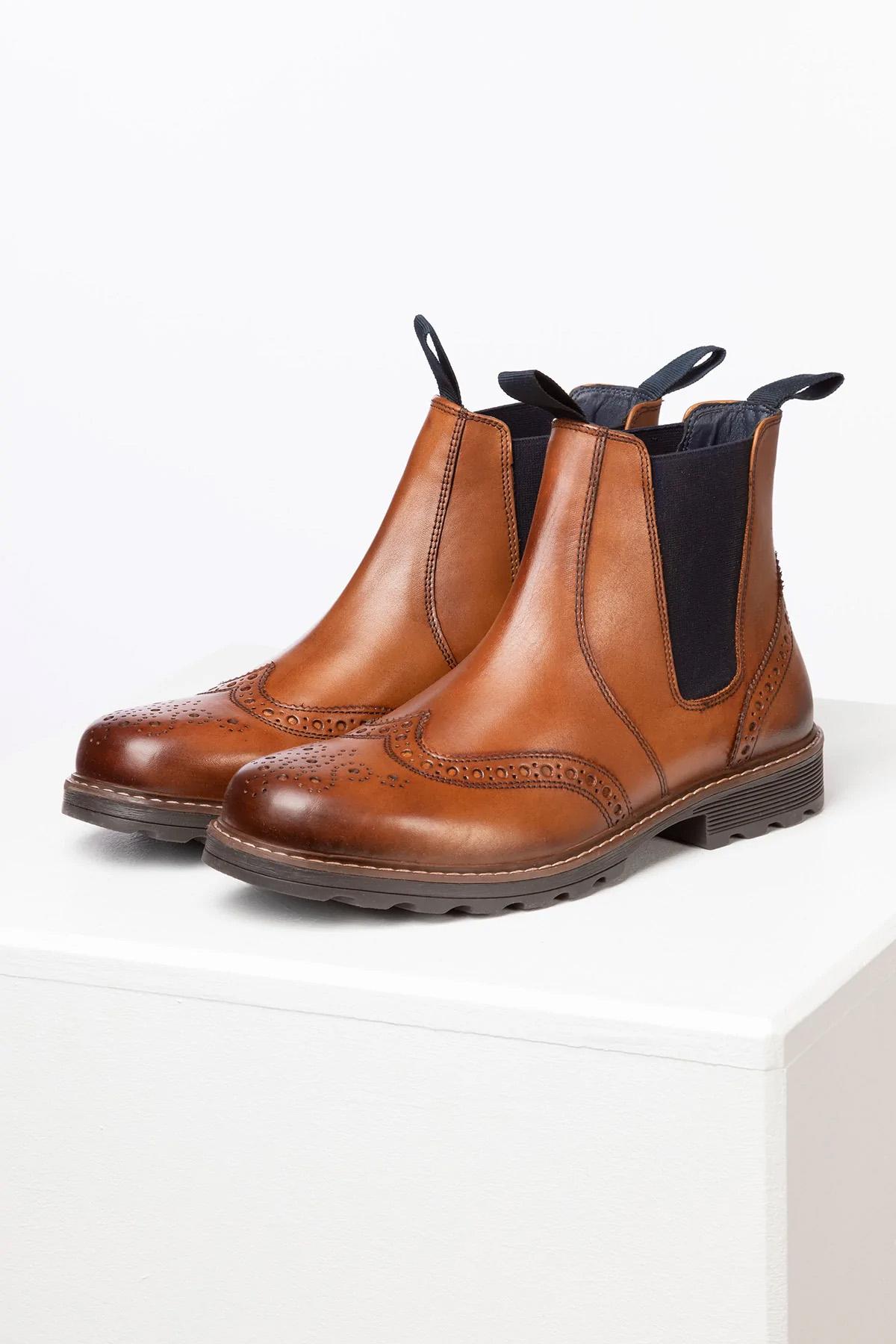 If you prefer a more traditional pair, the Haworth pair mixing tweed and leather are quintessentially Rydale country style! Whilst we wouldn't recommend wearing these on a hike or in particularly muddy areas, they are perfect for everyday life. The extra thick tread is ideal for country life and the elasticated panels give these some extra stretch for added comfort.
Mid-calf boots
Some of our favourite styles come in the mid-calf range. Biker boots come into fashion every winter but we've designed our pairs to be worn all year long. The Kilham boot uses all of the typical biker boot elements (zips and buckles) but keeps the style sleek and sophisticated for the country lady. We love to wear ours with skinny jeans for casual events!
If you're not a fan of zips, a slip-on style is more up your street. The Whenby slouchy biker boots are perfect for those days when you're rushing out of the door. The leather and suede mix gives them an edgy feel but the thick tread keeps them feeling practical too!
Ankle boots
Yard boots have become more popular since many of us want a trendy but practical boot for the outdoors. They're basically a Chelsea boot but with a better tread and a more rugged feel. The Kilburn style comes in three shades too so it's up to you to choose your favourite shade!
Lace-up ankle boots
Many women feel restricted in knee-high boots so ankle boots are more their style. A pair of lace-up ankle boots are one of the most practical pairs you can get your hands on. They're perfect for people with both narrow and wide feet as you not only tie them as tightly or as loosely as you wish but it's easy to add in or take out a pair of insoles for extra cushion and support.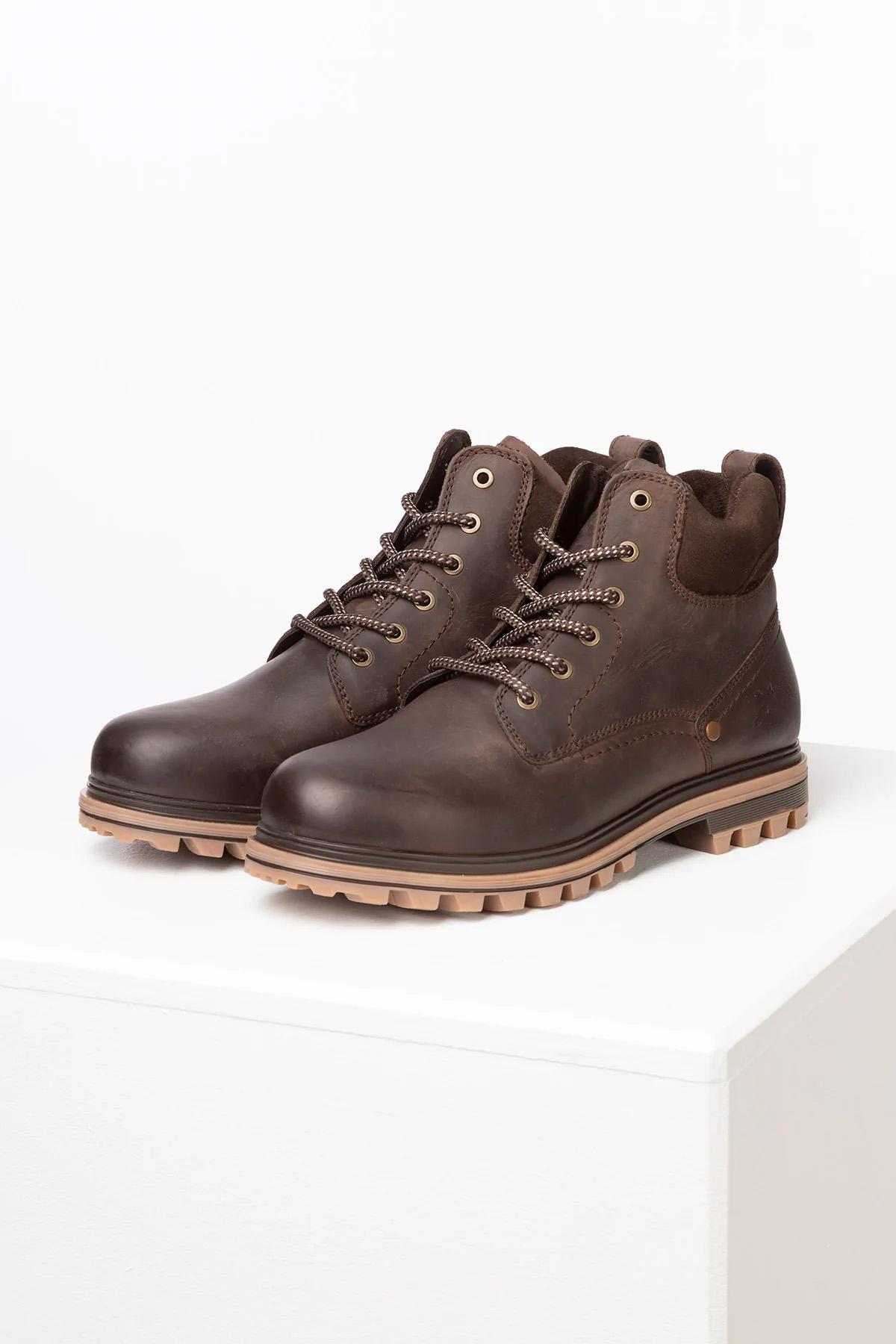 Our new Kilburn style is already a customer favourite because the dark brown shade just goes with everything! For those prone to cold feet, the fur-lined Kelk boots will be even more cosy when winter arrives! If you're looking for a dressier pair for evening events or for the office, the brogue-style Kirby boots are a sleek style to dress up or down.
Walking boots
For those who do a lot of hiking and outdoor activities, buying a pair of walking boots will be a worthwhile investment. They've been designed for rough terrains and have additional support around the ankle to avoid extra stress. The Atwick and Kilnwick styles are both popular with customers because they're made from quality leather and have all of the features you could possibly need from a walking boot.
Best country boots for men
Men's country boots have always been seen as untrendy but we want to change that. Whilst we know that you want your boots to be practical, there's nothing wrong with them looking stylish too!
Knee-high boots
Once again, men don't need to shy away from knee-high boots; they're not just for the ladies! If you work outdoors, they will save your trousers from getting ruined too. Tuck them in and you'll just need to clean your boots instead. Our men's Tullymore boots are firm favourites with our customers because they're practical and comfortable. The string fastenings at the top of the boot also allow you to tighten them to your calves.
Lace-up ankle boots
Traditional work boots always seem to come back into fashion but we like them all year round. The Millington brogue boots are perfect for lots of occasions, especially smart-casual ones. There is a zip fastening on them but the laces are there for extra support. We love the detailing on this pair too!
For something more everyday country style, the Norfolk and Otley styles are considered a 'standard' lace-up ankle boot. Both styles feature a cushioned ankle because we've found this style requires that extra support there. The tread on them is also one of our grippiest because they've been designed for outdoor working!
Walking boots
We couldn't do a country boots round-up without featuring walking boots! Our men's Aike version is everything you could possibly want in a walking boot: a neutral dark brown shade, a lace-up style with plenty of eyelets, a strong but flexible tread, a soft cushioned inner sole and extra padding around the ankle. This style sits just above the ankle as after customer feedback, this was the style you wanted the most!
Pull-on ankle boots
Market boots for men have become increasingly popular and we love our new designs. The standard Ilkley boots are super lightweight, which makes them incredibly comfy when out and about. The stretchy panels at either side make them easier to put on, as well as the tab at the rear of the boot. If you prefer a dressier version, the brogue version is also available. You might choose this option if you tend to wear them for other occasions, rather than just working outdoors.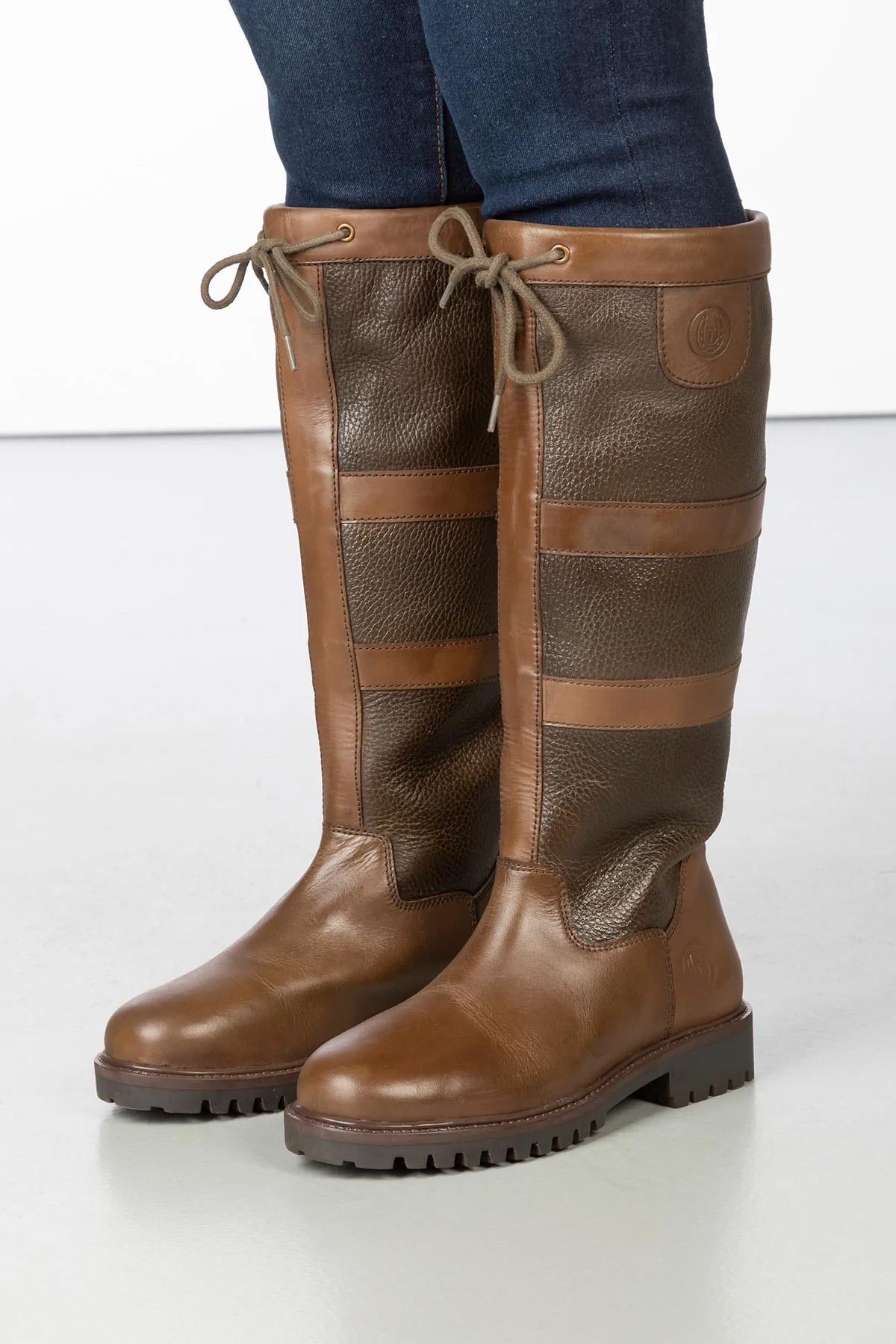 Best country boots for children
We couldn't do a round-up of the best country boots without mentioning styles for the children too!
Pull-on ankle boots
The easiest style of footwear for children is a pull-on style. It's easier for parents to put them on and then when the child gets older, they can put on their own boots! From standard Chelsea boots to jodhpur boots, our sleeker styles are perfect for any child. There's something so cute about children wearing adult-style boots, a sign they're growing up!
Once a confident walker, you can try a heavier boot, like the market boot. Whilst they're still lightweight, the heavier, sturdier sole is much more grippy tha other styles. The double tabs at the top of the boot make this style much easier to put on too.
Wellington boots
However, if your child is prone to getting dirty when outside, a pair of wellies are sufficient enough to keep them clean! They can choose their favourite pattern or colour scheme and they can splash around as much as they want to!
Country boots are designed to be both practical and stylish but moreso, an investment. For adults, your boots should last you a number of years if you look after them properly. Our styles have been chosen to see you through various seasons as they're all classic styles. Choose a pair that you think complements your wardrobe and you'll get so much wear out of them!