After two years of cancelled plans, this is the year when many of us will be going all out for the summer, hosting family and friends. In fact, a lot of us have invested in home improvements because of all the time we've been spending in our homes, including our outdoor spaces, such as garden rooms and conservatories.
This year, it's time to open our doors and spend more time with our loved ones outdoors. There's something so special about having family over, getting in the garden and enjoying the sun. Whether it's a celebration party or an informal gathering, it means your outdoor spaces need to be in tip-top shape.
You can definitely makeover a conservatory or summer house on a budget, whether it's a lick of paint or switching up the decor and furnishings. Many of you might not know that we actually offer a range of soft furnishings and homeware, perfect for a cosy, comfy space. In this blog post, we've broken down some of the most popular interior design themes to include our favourite items from the range. Every item in the collection is less than £20 so you really can have a stylish home on a budget!
Natural, nude shades
For sunrooms, creams and whites are extremely popular. They will go with any colour that you already own and add a sense of freshness to any space. Perfect for spring and summer, nude shades feel like a transition from richer wintery colours to bright and airy spring hues. A cream blanket thrown over a sofa will not only brighten up the space, it will also protect your sofa. Whilst cream soft furnishings can be a risk, especially if you have children, our blankets are machine washable so can easily be thrown into the wash after a spill. A couple of fleece cushions can also add some texture to your chairs or sofa and look great when mixed and matched with other styles. It will complement a light coloured sofa but contrast and stand out on a darker coloured sofa so cream furnishings are incredibly versatile.
Earthy tones
If bright and airy isn't your style, how about some darker, earthy tones instead? They're not just for autumn and actually look beautiful paired with neutral shades so you could always mix the two styles together. Shades of olive and khaki will always look luxurious and will always get your compliments on your home decor. Add in some subtle countryside flair with a patterned cushion with a gorgeous pheasant print. You can always purchase the matching blanket to make your own gift set or create your own cosy corner in the conservatory. Think of all the reading you could get done!
A splash of pink
For all those who love a touch of glitz and glamour in their homes, light pink definitely has that effect. Whilst decorating fully in pink can sometimes be too much, you can definitely add a splash of it with your soft furnishings. It's very feminine and can definitely keep male hands off your favourite furniture. If you're after just one piece, our trusted tweed fabric makes a beautiful cushion for something a little different. You might not think tweed makes a good cushion fabric but it's long-lasting and really comfortable too. If you prefer something softer, grabbing a matching fleece throw and cushion works wonders and is less than £20 for the pair! Chic, quality homeware on a budget? That's right up our street!
Shades of grey
If you want to have your home as an ode to Mrs Hinch, you'll know that tones of grey and silver make everything a little more luxurious around the home. However, we're all about making it countryfied around here so why not mix the two and have a dog print throw over your sofa? It's perfect for cosy nights watching movies or when the temperature drops during some quiet time in your summer house. Of course, we love our matching cushion too because why get one dog print item when you can have two? If you're looking for more of a statement piece, our grey and pink tweed cushion is perfect to stand out enough but will still go with your muted decor.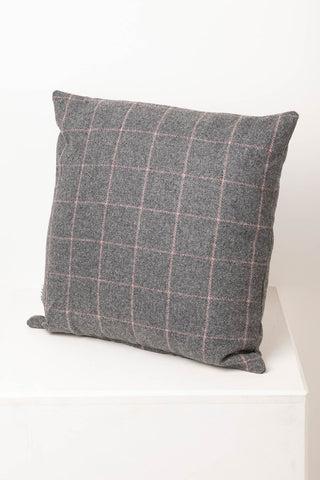 Hues of blue
If you like a bit of colour but are unsure of where to start, we recommend starting with various shades of blue. Lighter shades are calming and peaceful whereas darker hues are cosy and warming. You can definitely mix a variety of blue to keep the room cohesive too. If you prefer lighter shades, pops of baby blue in a space definitely brighten it up. A larger feature cushion with a duck print will stand out in your space and children and adults alike will love it too! For navy lovers, a matching set of a fleece blanket and cushion will add some texture to any sofa and a splash of colour too. Blue is best kept with neutral colours so you don't have too many competing colours in one space. If you're not ready to commit to shades of blue in your space, how about dipping a toe in with some kitchenware. Our gorgeous Wistow mugs will look perfect in any country kitchen!
Countryside patterns
'Cottagecore' and country chic are very popular right now in homeware trends and what better way to do that is by revamping your dayroom? We all know that cosy, country chic doesn't have to be a trend; if it's done properly, it can be an entire style forever! Think of cosy furnishings with patterns and prints reflecting the country lifestyle. The theme will be full of neutral and earthy tones, sometimes with a splash of colour, with countryside animals featuring heavily in your decor.
From horse-print in regular and large sizes (perfect for floor seating for games nights) to pheasant and hare patterns, cushions are the perfect starting point to introduce colour and pattern into the home. They're inexpensive and can add a touch of cosiness without going too overboard. If you prefer to add some pattern into the kitchen, why not purchase a new set of mugs? Our Wistow sets are super popular and make a great gift too for those who've recently redecorated!
Revamping a space doesn't have to mean spending lots of money. Sometimes, adding a couple of homeware pieces and soft furnishings can transform a room dramatically without really having done anything to it! There isn't always a need for DIY! With summer nearly here, there's never been a better time to add in a few new pieces to your conservatory or summer house, ready for all those guests you'll be hosting very soon!