As soon as your child starts to walk, it's important to get them into the right footwear. Once they're used to having shoes on their feet, you can try different styles to see which they prefer. However, when the temperature drops and the weather gets worse, they need to have a pair of winter boots in their wardrobe.
With winter boots, it means they can play outside, splash about in puddles and run around fields without damaging their more lightweight shoes. Winter boots are designed to be tough and have been tested to make sure they're perfect for some wear and tear, that's not to say that you shouldn't look after them though!
Looking after a pair of boots properly, regardless of if they're for adults or children, will extend the life of them and hopefully see you through multiple years. Unfortunately, because children grow so quickly, it might not quite be the case for them. However, it doesn't mean they can't have some looked-after boots for the year.
In this guide, we'll look into our favourite boot styles for toddlers and infants, the features of each style, when to wear them as well as our usual country styling tips.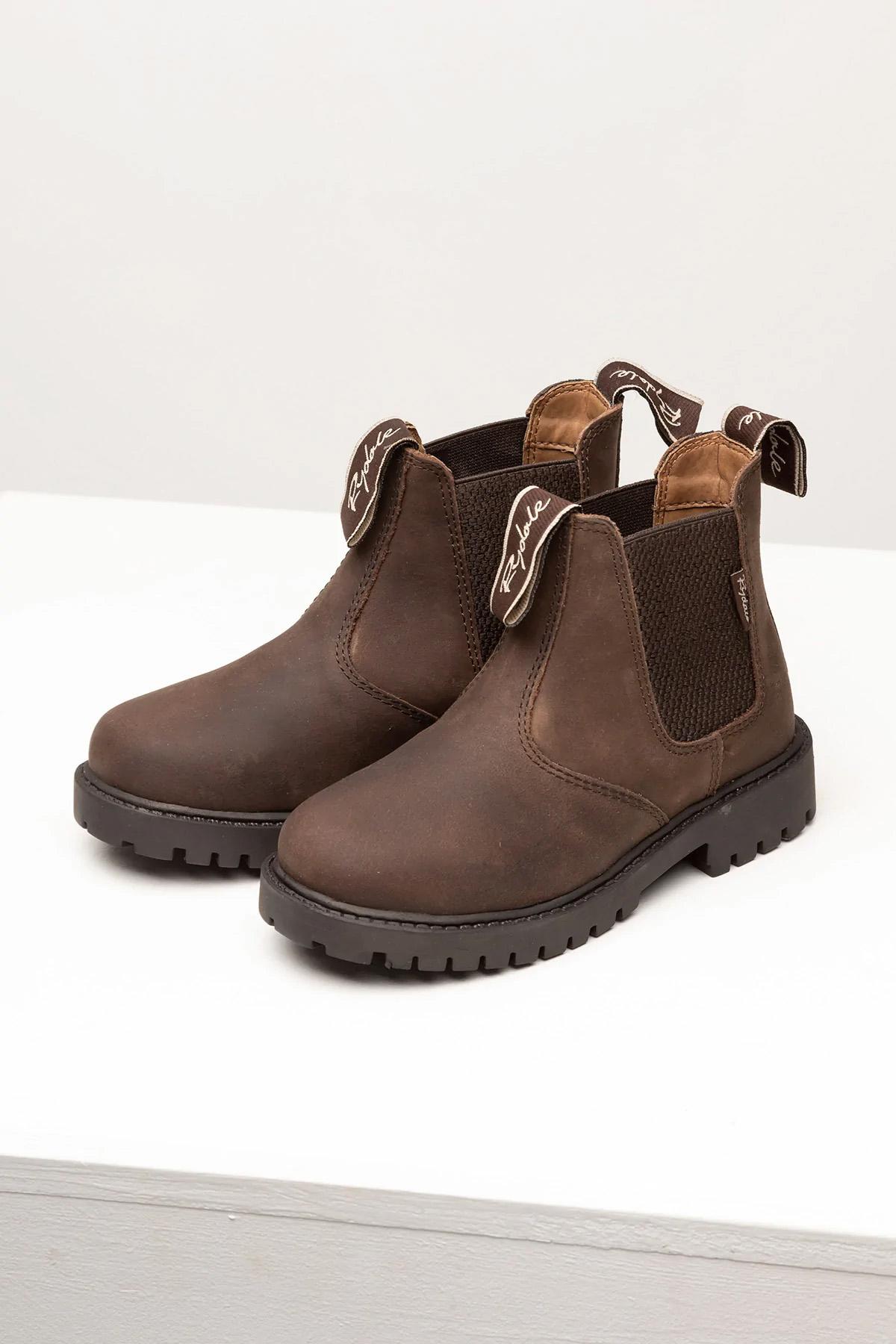 Market boots
If you're looking for an all-round boot for your child, a pair of market boots are the most versatile. They have a thicker tread than other styles and look like a more practical version of a flat-soled Chelsea boot. In a luxurious chocolate brown, you know they'll go with a multitude of outfits too! We've added an additional tab at the front of the boot as well as at the rear. This means that your children will be able to put this style on on their own. This boot style starts from size 10 Junior so they're not usually recommended for early walkers. However, once they've found their feet and are a comfortable walker, a market boot is ideal for any excursions. To make them even more cosy, wear them with chunky boot socks to keep those toes super warm in the colder months.
Where to wear this style
Because this boot is so versatile, it can be dressed up or down. As long as you give them a quick wipe down after every wear, these market boots should last your child for as long as they can fit in them! The thicker tread means they can be worn in the great outdoors on daily walks and hikes as well as on trips around the town. Many of our customers buy them for their children who help out on their farms and land too! We also love to dress them up with a smart shirt and slim-fit jeans or jodhpurs for family parties. Trust us, your family and friends will adore this outfit!
Jodhpur boots
For a sleeker, dressier style, a pair of jodhpur boots are a classic. Of course, they have been designed for horse riding but we love you getting value for money and wearing them elsewhere! Because of the slimmer fit, there are only rear pull-on tabs and it's recommended they are worn with regular ankle socks. The tread is still grippy to keep your children steady on their feet. They are made with 100% genuine leather on the upper sole so you know they are our very best quality. Available in black and dark brown, they're the ideal boots for an entire autumn/winter season.
Where to wear this style
Because of the slimmer fit, these are much easier to wear for dressier occasions for girls and boys. They look super stylish with a pair of chinos or a pretty dress for smart-casual occasions. Alternatively, they look just as stylish with a pair of leggings or jogging bottoms for countryside living. These boots will protect your child's feet from mud and water, which isn't always the case for the clothing!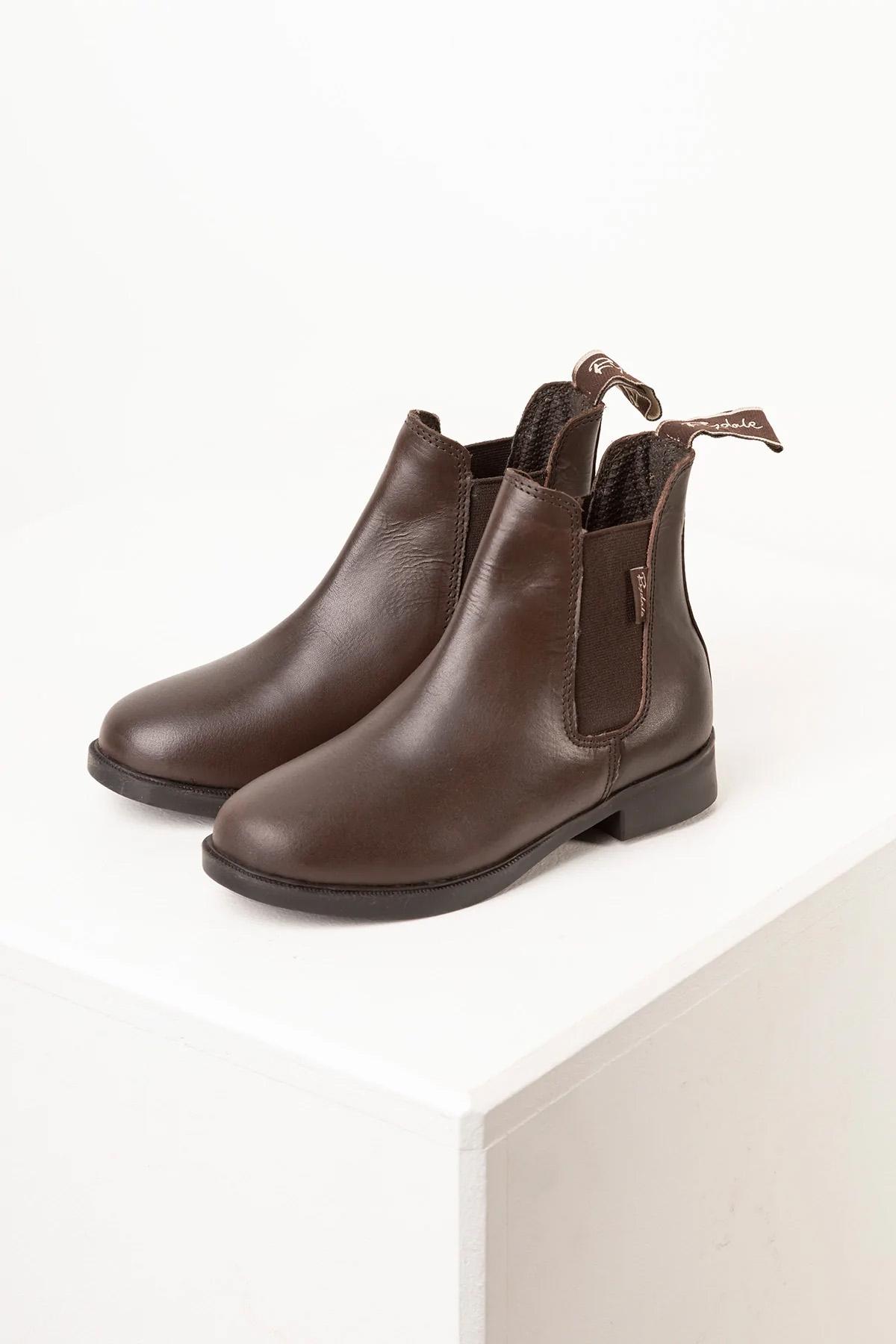 Country boots
Another term for our Chelsea boots, our country boots are soft and supple. The treat is still sturdy but these can be worn by younger children too. They're lightweight but durable, making them the perfect boots for little ones. They have a soft inner lining to keep feet warm and toasty but you could always size up so your child can wear even thicker boot socks with them. The double pull-on tabs make it easier for children to slide them onto their own feet and the elasticated side panels give them extra stretch too. Once again, we've stuck with our traditional country brown shade for these boots so you know they'll go with just about every colour and outfit!
Where to wear this style
Because of the softer sole, we recommend wearing them for regular walks and indoor activities. If the terrain is a little uneven, go for a sturdier style boot. If the terrain is flat or grassy, country boots are perfect for that sort of trip. Country boots are also quite casual boots but still look great with jeans and a collared shirt or basic T-shirt. We love to keep cosy so adding a fleece or waterproof coat on top will have your child ready for any and all weathers!
Wellington boots
We're constantly revamping our wellington boots range with new patterns and colours every autumn/winter. Our current splish splash version is as practical as it is fun! With seven pattern choices currently (and more coming soon), your child can pick their favourite themselves! Starting at size 3 junior, all children can enjoy splashing around in puddles and mud with a pair of these on their feet. From customer feedback over the years, we've slightly adapted our wellies to suit what you all want. We've added the handles at the top of the boot to make it easier for your child to put them on on their own, a grippier and sturdier sole for countryside walks and made them to a mid-calf length to protect your little one's legs as well as their feet and ankles.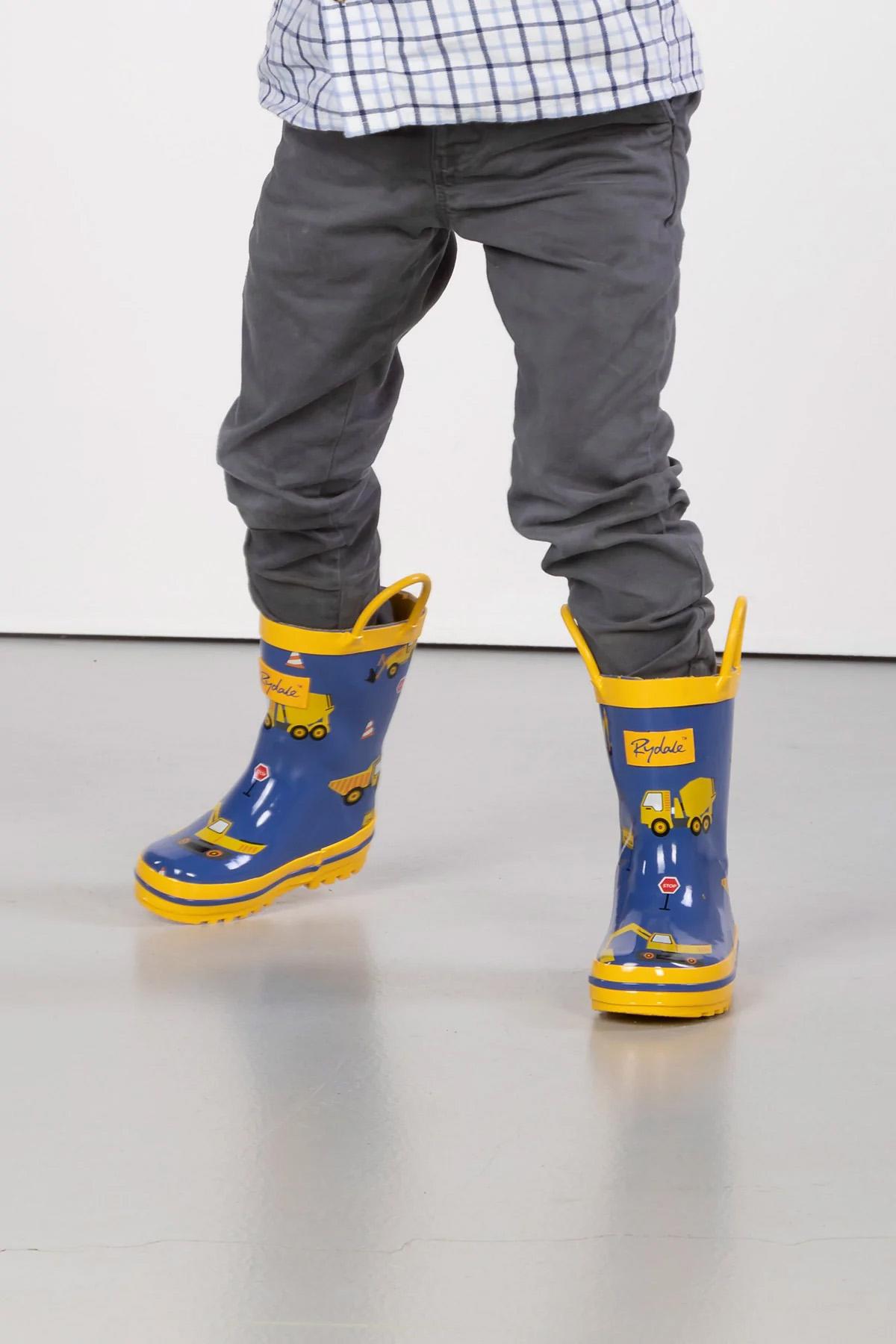 Where to wear this style
Wellies are designed for one purpose only: to be worn outside! Many of our customers have their children wear them on the walk to school on rainy days as well as on weekends and holidays. If you know the weather is iffy, stick a pair of these in your car boot so you can have a quick change! A perfect partner for our wellies is to pair them with a splash suit, again designed for outdoor fun. We've used the same colours and patterns for our wellies and puddle suits so your child can dress head to toe in their favourite!
Finding a pair of winter boots for little ones can be a challenge because they're growing so much. You want to get great quality footwear but not spend an excessive amount if they're only going to wear that size for a season or two. We've tried to make our footwear at an accessible price point, which also reflects the quality of the materials too. Hopefully, you'll enjoy the designs and colours chosen for our range because we think they're all super wearable for a range of occasions, making them great value for money!