When outdoors, you want to be as comfortable as possible, especially when doing an activity for hours, such as fishing. It's that fine line of comfort and practicality but you still want to look like a country gentleman or lady. Fishing can be a tricky outdoor hobby to dress for because not only do you need to think about everything you need to bring but also what you're going to wear. You'll probably be out there for the entire day or may even be treating yourself to a fishing weekend.
Luckily for you, we're experts at dressing for the great outdoors! In this guide of what to wear when fishing, expect to see what we would call a beginner's checklist. It's the basic items that you may own already but are more than suitable for a fishing trip. You have to think about the temperature, the weather and your comfort levels so there are a few items that are required whether it's summer or winter. Here are our fishing essentials for any time of year as well as a handful of items you will need during warmer and then colder weather.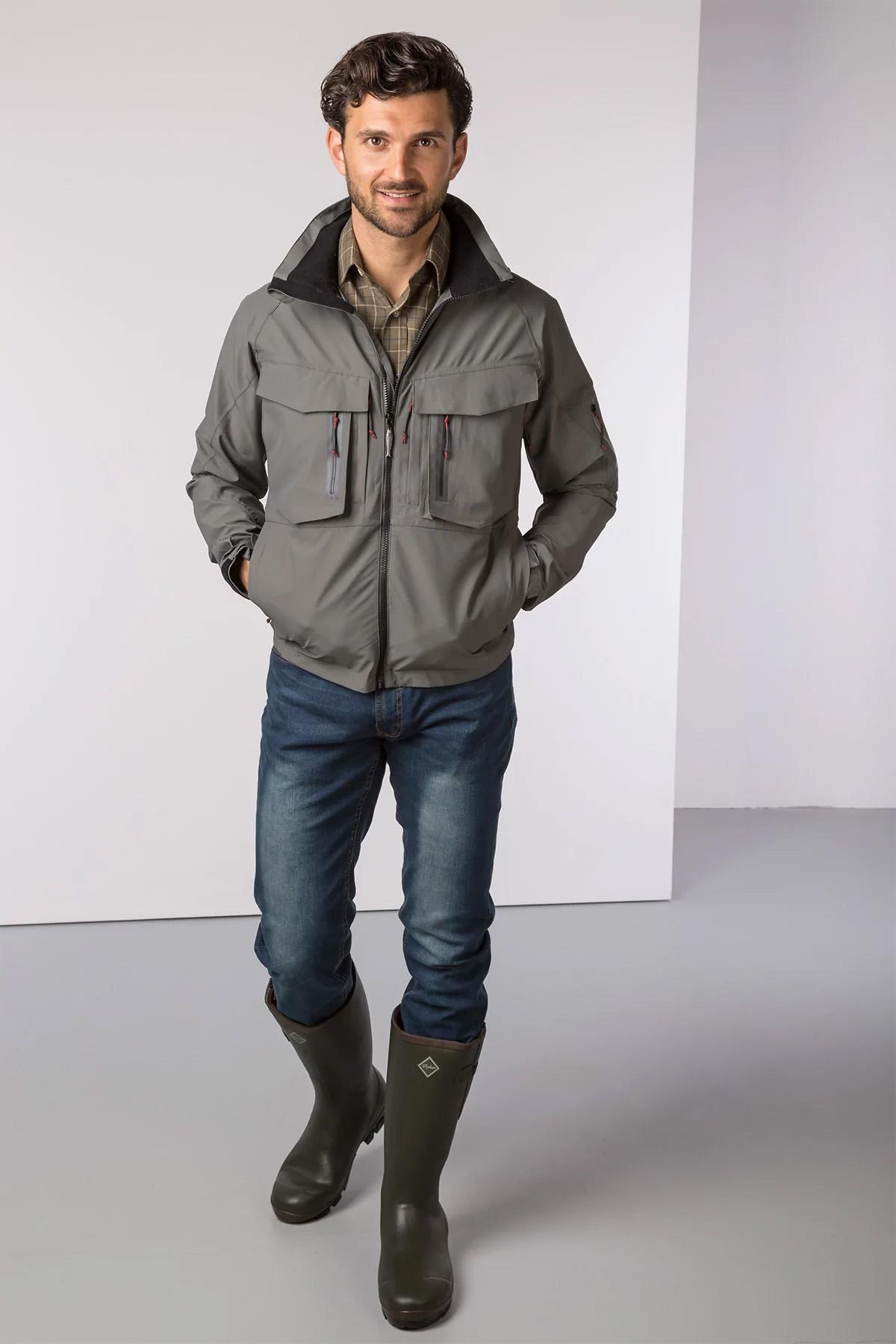 A base layer
To begin with, you need to stick on a base layer. This could be a basic crew neck T-shirt (men's or women's), a dry-fit sports top or a thermal T-shirt during colder months. The first layer is actually the most crucial layer because if you're going to be sitting outside for hours, this is the layer closest to your skin. During summer, choose a material that is light and breathable, like cotton, and when the temperature drops, a thermal top should help to keep the heat as close to your body as possible. Shorter sleeves are great for summer and long sleeves work perfectly for winter (our ladies' long sleeved thermal is always popular).
A collared shirt
For your next layer, we recommend a collared shirt. As a respectable country gentleman or lady, you should already own at least one but there's nothing stopping you from adding to your collection. Once again, short sleeves work for warm weather, with longer sleeves ideal for winter. Checked shirts will never go out of style in the countryside so why not pick a shirt in your favourite colours? Our men's range of checked, collared shirts is constantly evolving as we add more new lines. The great thing is that you can wear a checked shirt pretty much anyway, whether it's for a fishing trip, the office or the pub at the weekends, so you can choose one already in your wardrobe or find a new style. We're also big fans of collared shirts for ladies, with patterns and colours galore. A fitted checked shirt is perfect for so many occasions so you will definitely get a lot of use from one!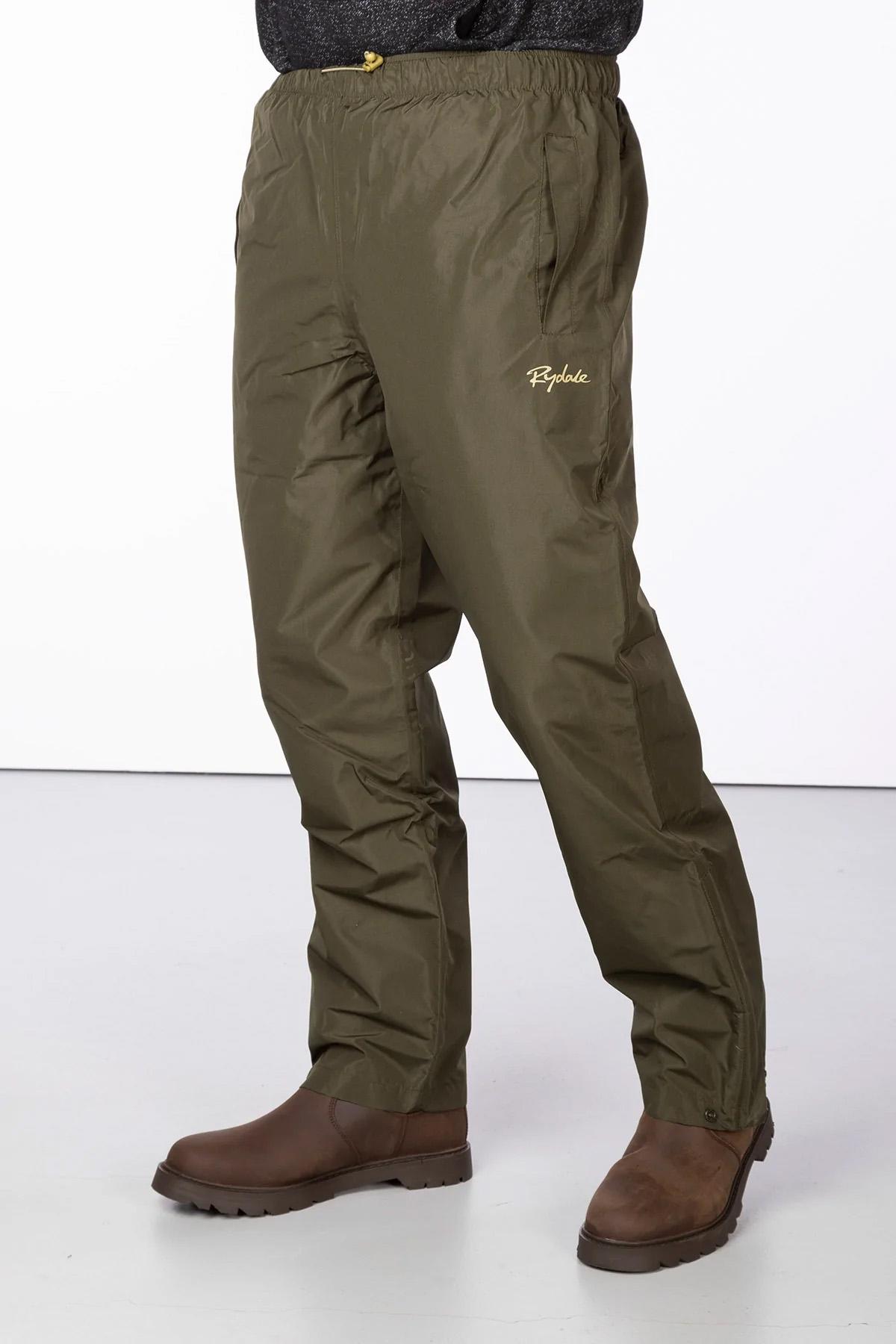 A fishing jacket or waistcoat
A waterproof jacket is a must-have for anyone living in the UK, especially in the countryside. Taking one along on a fishing trip is also a necessity because as we all know, the heavens can open at any moment, especially when you least expect it. For the country gentlemen, our Esk fishing jacket has been designed exactly for that. It's both waterproof and windproof to help you weather any storm, along with a foldaway hood and adjustable cuffs. We couldn't design a fishing jacket without adding in numerous pockets, eight no less, including multiple ones at the front for easy access for essentials.
When it isn't raining or the weather improves, you might prefer a utility waistcoat instead. From the stone coloured Skipton style to the navy 1722 version to the khaki Egton and Brecon waistcoats, each is similar in design with subtle differences. Every design includes multiple pockets, an insulated lining and enough stretch in the material for moving around when outdoors.
For ladies, whilst we don't sell specific fishing jackets, many of our waterproof styles are still practical enough to wear when fishing. You'll need a style that is a traditional style because you need it to be designed for the outdoors. The Belle jacket has plenty of pockets to store items in, a mesh lining to keep you cool as well as a hood that can be packed away if it gets drier outside.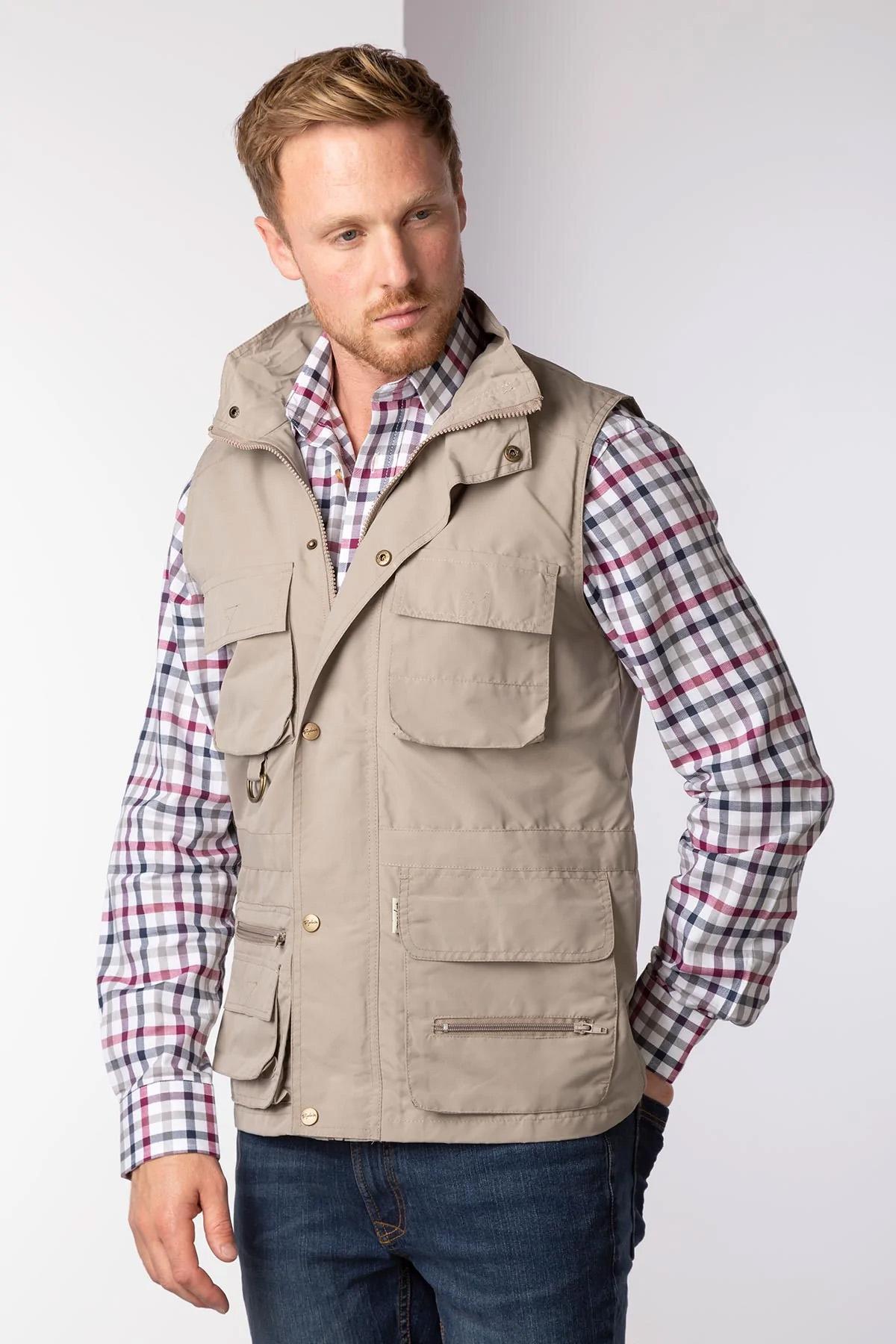 Waterproof trousers
In any weather, it's worth getting a pair of waterproof overtrousers. If you're going to take up fishing as a hobby, they're an inexpensive way of not ruining your regular trousers! For less than twenty pounds, our men's and ladies' overtrousers are designed to be packed up small as a just in case item. With an adjustable waist, zip up legs towards the bottom and two large front pockets, we've tried to make them as comfortable as possible! You can roll them up when it's warmer and tuck them into wellies on colder days.
Wellington boots
We're big fans of having a pair of wellies in the car whenever you go on an outdoor excursion. However, for fishing, you might need a more substantial pair than your regular high-street ones. A pair with insulated lining and a good tread will see you steady on even terrain and in shallow waters. Our Lady Gransmoor ladies' wellies and Gransmoor men's wellies have been made as an upgrade to our regular wellington boots. However, we've given them a faux trim at the top to give them a luxurious feel too.
Above are the items that we recommend for fishing all-year round. However, there are a handful of items that you might want to purchase if you plan to go fishing at a particular time of year. Again, you may already have several, if not all, of these items but they're designed to either protect you from the sun or the cold.
Summer essentials
When it's hot outside, many people stick on a T-shirt and shorts to go fishing. Whilst this is perfectly acceptable, you may need to pack a couple of other items to stay protected and cool when outside all day long.
Sunscreen - So many people apply it once before leaving the house in the morning and never again. Make sure to apply it every two hours during particularly hot weather, stay in the shade if you can and avoid peak heat between 11am and 3pm.
A bush hat or baseball cap - Always make sure that your head is protected from UV rays. We put sunscreen on our entire body but we forget about the top of our head! Wearing a baseball cap or bush hat will solve that problem.
Sunglasses - Your eyes need protection too. Try a wrap-around style so they don't slide off your face constantly and make sure they keep out UVA and UVB rays.
Lots of water - It's so important to stay hydrated at any time of the year but with sweat escaping more during hot weather, you need to top up your water levels. Take small sips throughout the day.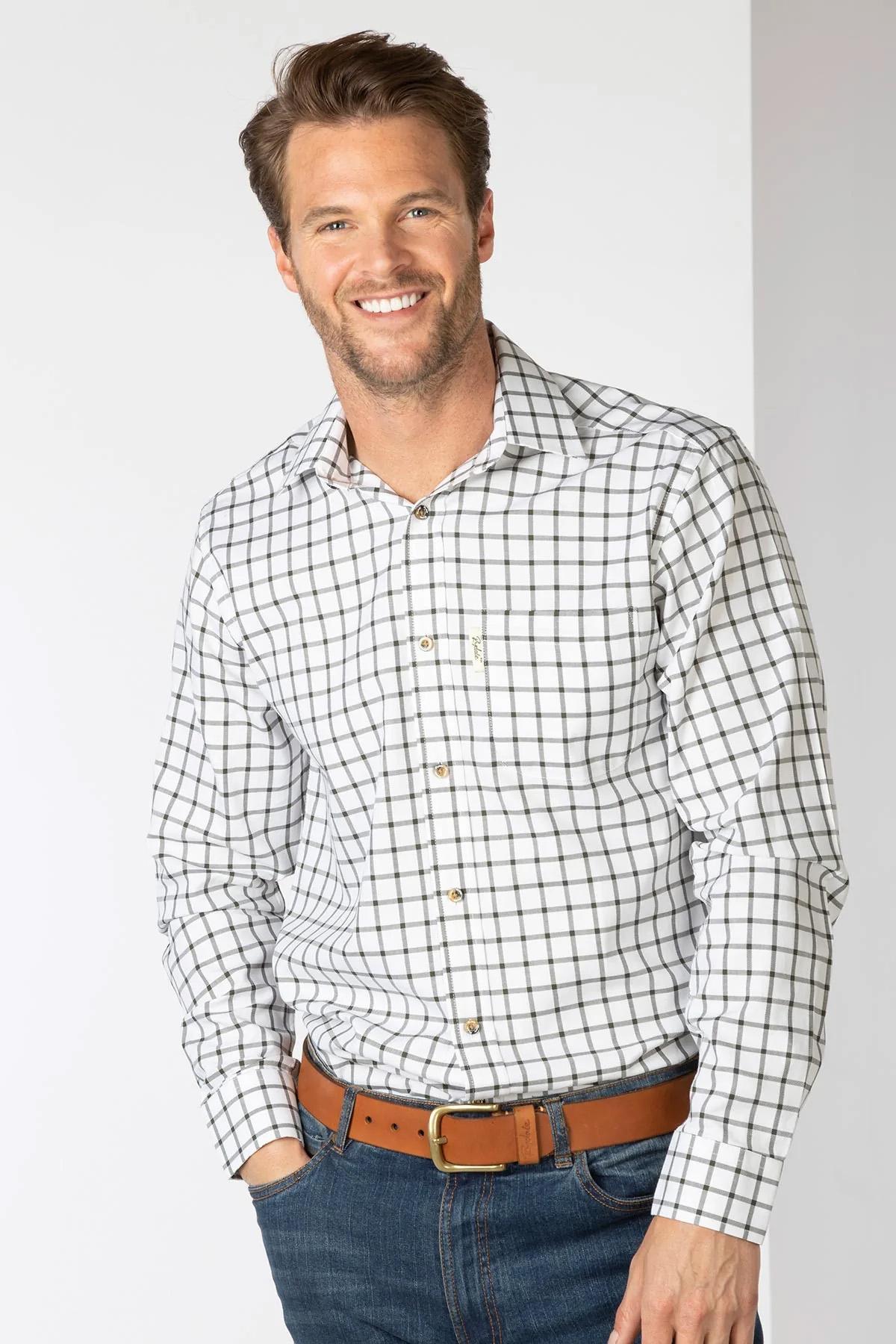 Winter essentials
Whilst you might not need as much protection from the sun, it's important to keep your body temperature warm. Thin layers are always a must so you avoid overheating and excessive sweating.
A woolly hat - Most of us know that heat escapes from our heads and most of us do nothing about it. A warm, woolly hat will avoid this from happening and keeps your head and ears toasty warm.
Gloves - Again, keeping your extremities warm will regulate your body temperature without you even realising. Invest in a specialist pair of activity gloves for fishing so you can use your hands properly.
A hot drinks flask - Drinking hot fluids will keep you warm for longer so fill up with your favourite hot beverage to keep you going.
Boot socks - Warm feet are everything if spending the day outside. Boot socks are extra thick with sweat-wicking properties so your feet will stay warm but won't sweat.
Choosing an outfit to wear when fishing doesn't have to be tricky. Think about what you'd wear when spending the day outdoors and make sure you stay cool or warm, depending on the temperature outside. You'll find that you own many of the items recommended in this blog post because you know we're all about building a wardrobe full of countryside essentials for any weather. Only buy specialised fishing attire if you plan to stick to it as a hobby. Otherwise, see if you can borrow or hire items from friends and family for your trip.